Good morning.
Prominent Republicans have ramped up their criticism of Trump's fruitless attempts to overturn the election result, condemning his legal team as an "embarrassment" to the party. Two of Trump's former national security advisers joined the calls for the president to drop his baseless allegations of voter fraud, with HR McMaster calling the claims "very corrosive" and John Bolton describing Trump as "the political equivalent of a street rioter". Meanwhile, in Pennsylvania, a Republican district court judge threw out Trump's attempts to overturn the result, comparing the claims to "Frankenstein's monster".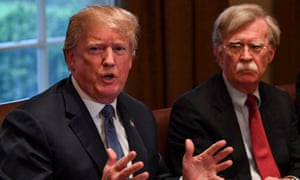 While Republican leadership in Washington is standing behind the president's protestations of voter fraud, it seems there are some bizarre election claims that even the Trump administration won't touch. The campaign's legal team cut ties with conservative attorney Sidney Powell this weekend, after she peddled conspiracy theories and pledged to "blow up" Georgia with a "biblical" lawsuit. Just last week, Trump said Powell was part of a team of "wonderful lawyers and representatives" headed up by Rudy Giuliani.
Who's getting a top spot in Biden's cabinet? Tuesday will tell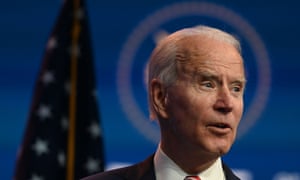 Joe Biden is set to reveal the first picks for his cabinet on Tuesday, with Antony Blinken, a diplomat who was deputy national security adviser under Obama, seeming most likely to bag the role of secretary of state. Despite Trump's best attempts to derail Biden's confirmation, the transition team are pressing on at "record setting pace", according to Biden's new chief of staff, Ron Klain. However, Klain said the team was limited by the White House's refusal to play ball, with Biden and the vice-president-elect, Kamala Harris, still denied access to intelligence briefings, coronavirus data, and background checks for cabinet nominees.
Biden's pledge to build a diverse cabinet with a range of political stances has so far failed to materialise, writes Daniel Strauss from Washington. The top staffers introduced until now are largely from the same inner circle that Biden has had for many years.



"I wonder, having spent eight years as VP [vice-president], whether Biden would hesitate to rely on Barack in any meaningful way because of a feeling that it would be like relying on your older brother," said David Garrow, author of Rising Star: The Making of Barack Obama.
Healthcare workers want you to 'scale back' thanksgiving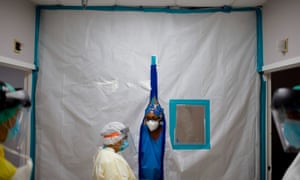 Healthcare workers, infectious disease experts and hospital leaders have called on Americans to tone down Thanksgiving celebrations this year, amid fears that the holiday gatherings will lead to a surge of coronavirus cases. One expert said that if people continued with plans to defy the advice – with reports suggesting millions will – the US would require further strict lockdowns until Christmas.
However, the head of the White House's vaccine programme, Operation Warp Speed, said that life could be back to normal by around May. If the immunisation plan goes well, enough Americans should be vaccinated by spring 2021 to enable life to go back something like the one we knew.
In other news…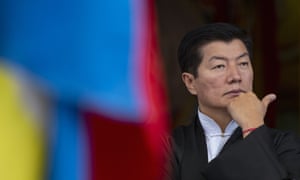 Stat of the day: 60% of South Dakota are testing positive for coronavirus
Nearly six out of 10 people who take a coronavirus test in South Dakota are confirmed to be positive for coronavirus. The alarming rate has been attributed in part to the leadership from the governor, Kristi Noem, who has made the state the only one in the US without a mandate for mask wearing, encouraged crowds to travel to attend a mass events, and consistently criticised lockdown measures. Perhaps most shockingly, this isn't the highest rate in the US – neighbouring Wyoming takes the unenviable top spot.
Don't miss this
Biden faces a number of obstacles in his quest to unravel Trump's immigration policies. From contending with conservative judges to introducing slow-moving literation, experts share their insight into what must be done to re-orient America's approach to immigration.
Last Thing: Elephant saved from a well after a 12-hour crane operation
Some cheery news emerged from India's southern state of Tamil Nadu this weekend, where officials used a crane to successfully pull an elephant out of a well. The officials worked for more than 12 hours before they managed to free the elephant, which had fallen into the well after it strayed into a village on the border of a forest. It was monitored for three hours after its rescue, and found to be "healthy and active".
Sign up
First Thing is delivered to thousands of inboxes every weekday. If you're not already signed up, subscribe now.
Source link