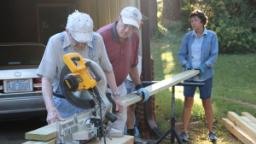 This year, volunteers from the nine participating churches will complete more than 20 service projects, ranging from yard work, painting, light repairs and beautification for local nonprofit organizations, to a wood chop ministry that provides firewood for people who need wood for the winter and a city-wide trash clean-up.
In addition to the more labor-intensive projects, Mission Morganton will collect items for Burke United Christian Ministries, the Pregnancy Care Center of Burke County and Burke Animal Services. Volunteers will set up a food collection at several local grocery stores.
The Rev. Dr. Marshall Jolly, rector of Grace Episcopal Church, a "Mission Morganton" partner church, said that these food collections are instrumental in helping his church's backpack ministry, which distributes more than 2,000 pounds of food to children and families each year through local schools.
First Baptist Church originally started Mission Morganton as a part of the larger Operation Inasmuch, a worldwide faith-based community service organization initially created by the Baptist State Convention of North Carolina. According to the organization's website, the goal of Operation Inasmuch is to motivate and equip churches to obey the biblical mandate to minister to the "least of these." Since 1996, more than 2,100 churches in 25 states have participated in Operation Inasmuch.
Source link